A Perfect FIT with Glo Sun Spa Houston
Glo Sun Spa is a luxurious and popular chain of tanning spas that has successfully incorporated FIT Bodywrap into their menu for years! The Glo team is highly educated and they participate in the services offered such as tan and sun spa themselves! It is this distinguishing feature that allows them to give amazing testimonials to their clients. If you're searching for indulgent services, a friendly staff and top-quality results you'll find it with Glo Sun Spa. Clients rave about the beautiful facilities and equipment in each of the 18 locations, some of which have been open for 17 years. "I started my business in 1990 as a traditional tanning salon. Over time we evolved to offer more spa related, wellness, skin care, and weight management aspects to the business," says Todd Earnhart, Founder. "Quality services have been added to increase client results. These services have also boosted income opportunity to what was already becoming a large client base." "I love the FIT Bodywrap! It helps soothe my sore joints and muscles, burn additional calories and keeps me drinking lots of water," says Tammy Jewell, Salon Manager of Glo Sun Spa, Houston. "The FIT Bodywrap system has definitely helped us grow. We are in the beauty and wellness industry and our clients want to look and feel good!" A North Texas graduate with a business and marketing degree Earnhart started his career in the industry after an injury prohibited him from continuing to pursue his NFL dreams. "I started a consulting company catering to tanning salons and shortly after opened the doors to Glo Sun Spa," he says.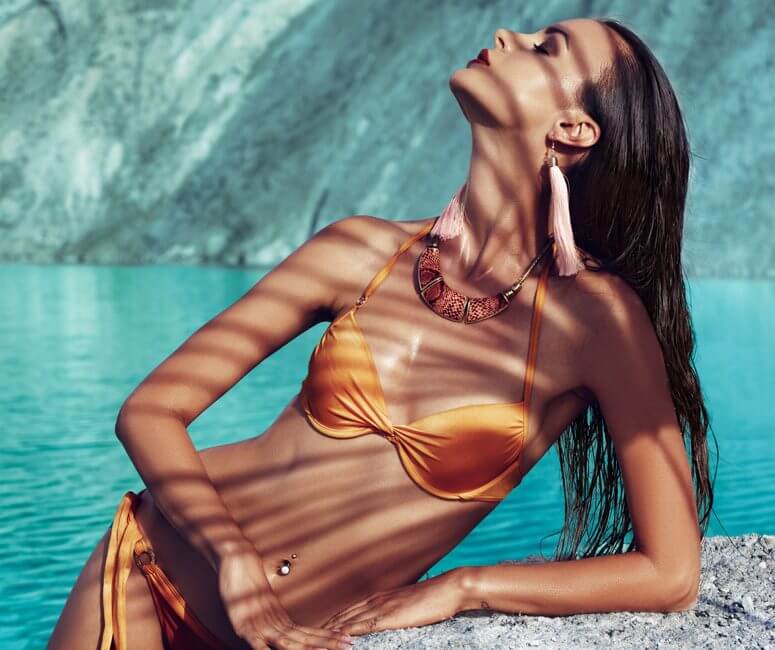 Here's what Tammy shared with us!
Can you give us an overview of Glo Sun Spa and what you offer?
Glo Sun Spa is a very unique spa. We have been open for 17 years and currently have 18 locations! Glo is actually a working showroom that features all the newest technology from the top manufacturers worldwide. We feature the world's most innovative equipment, impeccable service, and the absolute cleanest environment with effective results! When you come to Glo you can indulge yourself with our concierge team, our spa like environment and the finest equipment in the world. Services offered include world class UV tanning, sunless tanning (Versa Spa and Pura Sunless), FIT Bodywrap, Cocoon Wellness Pro, Omnilux Facial Rejuvenation, Hydration Station, Cryotherapy, Fitburn and Coolsculpting.
What got you interested in infrared and why did you choose FIT Bodywrap?
Glo Sun Spa's innovative approach to wellness is what brought FIT Bodywrap to us, we wanted an effective and comfortable piece of equipment, which can be used while our clients relax and rejuvenate! However, for me personally, I had a baby and gained a substantial amount of weight. I wanted to shed off the excessive number of pounds as soon as possible.
Do you offer packages of FIT Bodywrap sessions at your location?
Our Luxury Spa membership includes 8 FIT Bodywrap sessions per month for only $79.00. If you want or need to purchase additional sessions you will receive a discounted price on single or package sessions. Also with this particular membership, you receive a 25% discount on FIT Bodywrap products. Packages of 3,5,10,20 or 50 are also available for purchase.
Which FIT Bodywrap packages are the most popular and which other services/treatments do clients participate in as well FIT Bodywrap?
The Luxury Spa membership is the most popular option. It includes unlimited Luxury Level UV tanning, unlimited sunless and 8 spa services per month. Clients that do the FIT Bodywrap typically participate in Cryotherapy, Coolsculpting, Cocoon Wellness Pro, Fitburn and Omnilux Facial Rejuvenation (on different days!), and they see excellent results!
How big is your staff and what has assisted them in selling sessions?
We have 9 employees at the Houston location. I believe personal experience and client testimonials have honestly helped assist in selling the sessions and appealing to the people the most. Using your own testimonial can be extremely helpful.
What do you love about the FIT Booster and/or FIT Coat?
We really like the FIT Booster Spray because it helps provide a better result. I know that when I use it, I sweat more with it and I like the smell of it, too! It's a multi-use product that can be used with some of our other services and also used on your body before the gym or a workout. I like the FIT Coats because they trap the sweat in and they allow me to learn exactly how much I am sweating. They also really help with clean up!
How does the FIT Bodywrap serve your clients' needs? How many sessions does your salon conduct each day?
A lot of our clients take care of themselves and are in good shape. The FIT Bodywrap helps assist in any weight loss goals or physical fitness regimes, cellulite reduction, pain relief, relaxation, skin rejuvenation and detoxing. We conduct about 7 sessions per day on average.
What is your favorite benefit? What are your client's favorite benefits?
Well, I know my favorite benefits are definitely the calorie burning, weight loss and the amount of sweat aspect of it. I'm confident that our clients would agree with that!
What got you interested in infrared? 
The benefits of infrared have appealed to me for several years, and I have owned infrared saunas. The infrared heat was one more modality to expand into that just fit right into our business model.
Why did you choose FIT Bodywrap? 
The FIT Bodywrap system is easy to use and less labor intensive than other options. Also, FIT Bodywrap provides training and a good sales and support team.
How does Glo offer FIT Bodywrap, a la carte? Packages? Both?
Both. It is considered a spa service at Glo that can be purchased in packages or added into membership.
How do you feel FIT Bodywrap has made a difference in your business?
I've noticed a difference the diversity of our clientele. Offering FIT Bodywrap gives us a wider market appeal, and that's crucial.
What do the Glo Sun Spa employees love about the FIT Booster and the FIT Coat?
For one, add on sales are a plus. Clients can purchase the FIT Booster and use it as home as well as in the spa. Enhanced performance and cleanliness are also positives.
What is your favorite FIT Bodywrap benefit? What are your client's favorite benefits?
Mine and my client's favorite benefit is the calorie burn and weight loss. Infrared heat is great for making you sweat!  
"FIT Bodywrap represents an amazing income opportunity for a very small investment. It's a no brainer!"
How does the FIT Bodywrap serve your clients' needs?
The FIT Bodywrap system acts as a relaxing way to burn calories, alleviate pain, jump-start diet, and fitness protocols!
How has your experience with the FIT team been over the years?
Support is outstanding. I am constantly solicited from competing brands, but my loyalty is with FIT Bodywrap. They have earned it!
What would you say to a business owner who is interested in FIT Bodywrap?
Stay away from it, so your clients keep coming to us!! Seriously, FIT Bodywrap represents an amazing income opportunity for a very small investment. It's a no brainer! A big thank you to the Glo Sun Spa team for giving us some insight into their business and how they acheive FIT Bodywrap results. There are many ways a company might incorporate infrared heat, but Glo is a perfect FIT for FIT Bodywrap!
What tips do you have for other business who are introducing FIT?
To give your customers the best result, educate them right away on how many times they should do it per week to achieve their desired result and the benefits of using the FIT Booster spray. Glo Sun Spa Houston also does a great job of advertising their FIT Bodywrap system, "We use our website, social media, e-blasts, customer referrals and testimonials," says Tammy.  "Our FIT Bodywrap was also featured on one of the local news stations "Get Ready for Summer" segments. We are happy to say that Tammy and her team are doing a great job with their customers and FIT Bodywrap system. Customers are seeing excellent FIT Bodywrap results. Keep an eye out for more stories from the Glo Sun Spa chain. Want to visit Glo Sun Spa Houston? Tell them FIT Bodywrap sent you! Address: 3273 Southwest Frwy. Houston, TX 77027 Website: http://www.glosunspa.com/ Facebook: https://www.facebook.com/glosunspa/ Phone: 713.662.9200